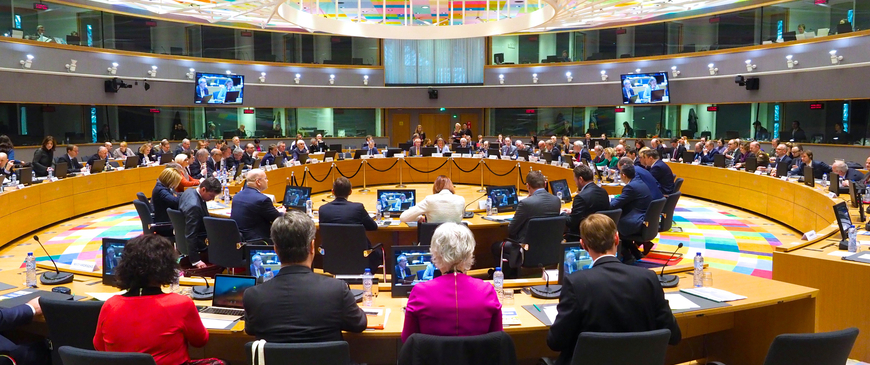 Should the EU make foreign policy decisions by majority voting?
Russian aggression, Chinese assertiveness and the fraying transatlantic alliance threaten the EU's interests in the world. Public opinion across the continent is in favour of a stronger common foreign policy. Divisions within the EU, however, often prevent effective common action, as foreign policy decisions usually require unanimity.
Divisions may stem from different analyses of the problem, conflicting national interests or member-states acting at the behest of, or under pressure from, external powers.
In response, the European Commission proposes to extend Qualified Majority Voting (QMV) to three policy fields within the EU's Common Foreign and Security Policy (CFSP): sanctions, human rights positions and civilian missions. For a vote to pass under QMV, it requires 55 per cent of member-states representing at least 65 per cent of the total EU population to be in favour of a proposal in the Council. The Commission argues that these reforms would not require changes to the EU treaties.
In theory, QMV would increase the EU's effectiveness by ensuring that a single state or a small group could not block decisions. Member-states should see the benefits of such reforms: faced with external challenges to the rules-based order, their national interests should increasingly converge; and the treaties already protect critical national interests from majority decision taking.
In practice, majority voting would only help in one of the three areas: it would become easier to take decisions on sanctions. Human rights statements would not tangibly benefit from QMV, while civilian missions are inherently unsuitable to majority voting. Member-states should also use the existing provisions for QMV to implement common strategies.
Many member-states, however, oppose any extension of QMV to foreign policy: small member-states fear that larger member-states with greater voting power would ignore their views; eurosceptic governments reject further encroachment on their formal sovereignty; and those states that profit from Chinese, and to a lesser extent Russian, investment want to preserve their ability to do foreign policy favours for their investors by blocking EU action.
Most member-states' concerns can be allayed, at least in the medium term. Germany and France must make greater efforts to consult and incorporate the views of smaller states across the policy spectrum to (re)gain trust and goodwill. But the latter's fears also tend to be exaggerated, as the treaties provide strong protections for core interests.
Extending QMV to sanctions can only be one tile in the bigger mosaic of making the EU a more effective foreign policy actor, albeit an important one.
View press release
Copyright is held by the Centre for European Reform. You may not copy, reproduce, republish or circulate in any way the content from this publication except for your own personal and non-commercial use. Any other use requires the prior written permission of the Centre for European Reform.