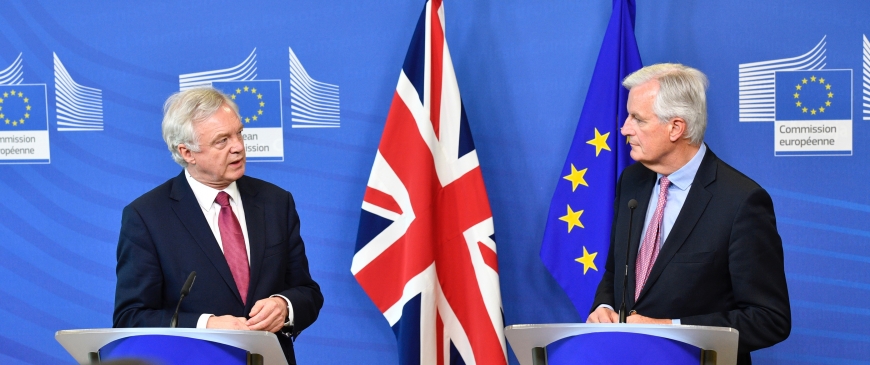 Single Market for goods, not services is only way to solve Brexit headaches, argues CER boss Charles Grant
The only way to resolve the Irish border problem and prevent disruption of manufacturers' supply chains is for the UK to remain in the Single Market for goods, the head of a leading think tank has claimed. Writing for the Financial Times, Charles Grant of the Centre for European Reform, claimed that "it is a proposal under current consideration, thanks to the specific requirements of the Irish border as well as a desire to protect EU-UK trade".
However Grant admits it would cross several of the Prime Minister's red lines - not least that it would require some oversight by the European Court of Justice - and it would necessitate some "punishment mechanism" for divergence.
Grant writes: "Voluntary alignment by British companies would not suffice; the EU would insist on mechanisms for arbitrating disputes. Prime minister Theresa May wants some sort of system for aligning with the EU on goods and will discuss it at her Cabinet's away day at Chequers on July 3."
He notes that prominent Leave ministers including Brexit secretary David Davis, foreign secretary Boris Johnson and trade secretary Liam Fox are "unenthusiastic". 
Services would be outside the Single Market, however, with Grant arguing that the UK economy's focus on services means that "the value of being a rule-taker [when it comes to financial services] is dubious".
This would cross another red line - this time for Brussels, where chief negotiator Michel Barnier claims "the single market is " binary" — you are either in all or none of it — and must involve free movement of labour".
But Grant claims the UK may be able to "win over" member states if it concedes some ground - ECJ jurisdiction, more money for the EU budget and the degree to which free movement is limited.
"For now, the odd couple of Mr Johnson and Mr Barnier is working to keep Britain out of the single market for goods," Grant adds. "But a fightback may be approaching in both Britain and other EU countries from those who are prepared to compromise on legal principles and wish to maximise future trade."