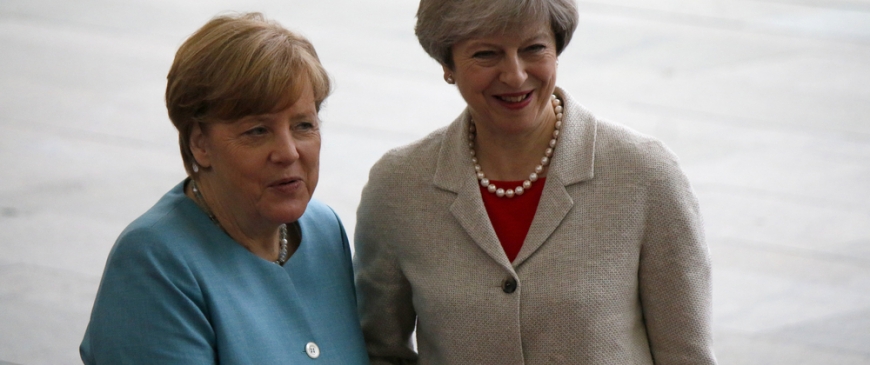 Major misunderstanding' Why UK can't rely on Germany's trade fears for good Brexit deal
Christian Odendahl dismissed claims Germany will strive for a good Brexit deal for Britain, because Angela Merkel has her sights set on greater unity in Brussels. Although Germany will "not want to punish" Britain, it will not stand for "cherry-picking", the Berlin representative at the Centre for European Reform warned. 
He said: "Some in the UK have expressed hope that a coalition government of Merkel's Christian Democrats (CDU/CSU) and the pro-business Free Democrats (FDP) will take a more pragmatic approach and put the country's economic interests first.
"But that theory is the result of another major misunderstanding: The Brits believe the economic case for a softer German stance is strong. The opposite is true.
"To be sure, German businesses would like to minimise the economic disruption that comes from a hard Brexit, but not at the cost of setting a dangerous precedent for the EU." 
The UK and the region of Bavaria have particularly strong economic ties, and both countries have previously stressed the importance of tying up a trade deal post-Brexit fairly quickly. 
Brexit Secretary David Davis jetted off to Germany earlier this year to meet Bavarian premier Horst Seehofer for potentially lucrative talks. 
Meanwhile Germany's engineering industry called for more constructive talks between the UK and EU, with the UK standing as the fourth largest export market in 2016 with an export volume of £6.8billion (€7.4billion),
But Mr Odendahl said Britain should not get carried away due to Germany's fierce loyalty to the Brussels club.
Writing for politics news site, Politico, he said: "Germans don't like the idea of selective participation in the single market, and they will try to make sure the EU27 remain united in the talks.
"Yes, Germany is the largest and most powerful country in Europe, and yes, perhaps it could push through a softer stance on Brexit if it wanted to.
"But David Davis was wrong to suggest before the Brexit referendum that if the UK voted to leave, it would negotiate a deal with Berlin, not Brussels."
He also claimed Germany would be "reluctant to put itself once again ahead of the rest of the pack" and take a softer view on Brexit following the refugee and eurozone crisis, which has "undermined the "EU's appeal in some countries".